CLGBTCC Statement on NC SB49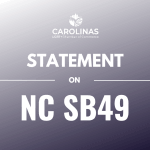 North Carolina Senate Bill 49, entitled "Parents' Bill of Rights," was introduced in the North Carolina General Assembly. This Bill is a copy of nationwide attacks on LGBT+ youth in schools. This Bill is about attacking the existence and education of LGBTQ+ kids and their families. It harms vulnerable students and weaponizes bigotry against teachers and nurses.
We urge our members, partners, and allies to stand against legislation that would seek to vilify and exclude LGBT+ people, especially children. Proposing legislation like this has real world impacts, as Dr. Jonah DeChants of the Trevor Project says, "Recent political attacks aimed at transgender and nonbinary youth have not only threatened their access to health care, support systems, and affirming spaces at school, they've also negatively impacted their mental health."
In addition, it sets North Carolina up as a place that is not welcoming to businesses and talent that are considering moving to our state. This reduces our competitive advantage that has been hard fought by both Republicans and Democrats. The Carolinas LGBT+ Chamber of Commerce condemns this harmful legislation that is contrary to our values and principles as North Carolinian. Every student and every parent deserve to be welcomed in our state and our schools.
Our Public Policy & Advocacy Team will work diligently with members, partners, and stakeholders to ensure that this bill along with other targeted attacks on the LGBT+ community do not become law. Along with the economic imperative, we will continue to support our community and make their safety and well-being a priority.
For more information:
Kelly Durden-Posey, Chair
CLGBTCC Public Policy & Advocacy Committee
k.posey@clgbtcc.org / 704-837-4050 ext. 7102