CLGBTCC Statement on Pending SC Legislation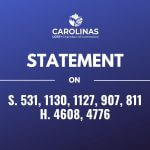 According to the Movement Advancement Project (MAP), there are nearly 200,000 LGBTQ people in South Carolina. They are parents, students, workers, and entrepreneurs deserving of equal access and protections by their elected leaders. Recent legislation targeting expressive performances, including drag shows, will have a chilling impact on live entertainment, causing harm to venues and establishments at a critical moment.
Furthermore, proposed legislation targeting health care for marginalized youth, threatens the well-being and livelihoods of Transgender youth and their families. For companies large and small, including Boeing Co., this runs contrary to their published policies and values. Targeting marginalized groups is an attack on workforce competitiveness and may make the Palmetto State less desirable for employers making future decisions on hiring and relocation.
The Trevor Project has repeatedly shown the real-world impacts of this and similar legislation. According to the 2022 National Survey on LGBTQ Mental Health, over 80% of Trans youth reported experiencing negative mental health impacts due to the political climate and discussion of their rights.
The Carolinas LGBT+ Chamber of Commerce stands in opposition to these harmful bills that will damage the state's economy and harm its people. We call upon business leaders and allies to contact their elected officials to stand for a South Carolina that values the diversity and prosperity of ALL its people.
For more information:
Kelly Durden-Posey, Chair
Policy & Advocacy Committee
k.posey@clgbtcc.org or 704-837-4050 ext. 7102